I'm not casting at present due to social distancing guidelines during the COVID-19 crisis
BUT
I can offer virtual baby casting appointments so you can still capture those tiny toes. Please read my
Blog Post
for details
I can offer postal hand/foot and fingerprint jewellery orders.
Also please don't hesitate to contact me about memorial keepsakes. Although I can't cast at present I might still be able to work with funeral directors to make prints.
I wish all my customers well!!
3D Baby Casts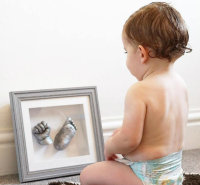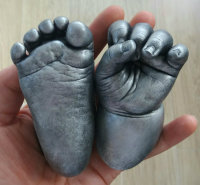 Hand casts and Foot casts. Please visit my Southampton studio for the best casting experience.....
Choose a caster with care!
Everything you need to know about your baby casting appointment (For you to Download)
Reviews
Laura was incredibly accommodating when we arrived mob handed, to witness the casting of our son's hands and feet! Everything was perfect about the session (including the amazing shusher!) and the finished products are simply stunning. They are now pride of place in both ours and the grandparents homes.
Today I collected my sons 3D hand and foot cast and what can I say WOW. It is worth every penny and something I will treasure forever! Thank you again Laura.
To See More Reviews....