3D Baby Casts- Process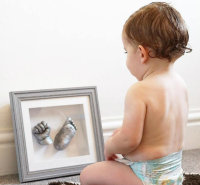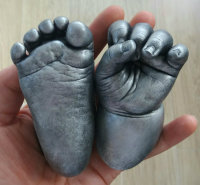 The Process of casting Baby's Hands or Feet (or you pet's Paws)
I use a totally safe and natural moulding material called Alginate to form an mould of your child's hand or foot (or your dog's paw.)
It is totally safe for even for the tiniest babies (
see FAQ's
).
Taking the actual mould is very quick (less than 5 mins)
The baby's foot or hand is placed in a cup of Alginate which is luke- warm and lovely and squishy so your baby should not even notice. If it is a slightly older child, they will hopefully love the process!
The Alginate forms a 3D mould and after you have gone home I will take a special stone cast of the mould. The stone takes on all the details is very strong when it is set.
I am very careful to identify every line and fold in tiny hands and feet to create a beautiful final 3D cast which highlights all of the unique fine details.
I usually allow 40 mins to 60 mins for each appointment (depending on the number of casts you require), so we then have time to relax, discuss what you'd like and to choose colours, frames, mounts and finish etc.
When the stone cast is dry I will hand- finish your casting using paint, wax and polish. Finally I will frame or mount your 3D casts to your individual specification.
I aim to work in a relaxed atmosphere to make the process really easy and enjoyable.
Your totally unique casting will need to dry for approx 4 weeks. I will then personally paint, finish and frame your cast so it will be ready to collect in approximately 5 to 6 weeks.
For more information about Framing your Cast -
Framing
Baby and Child 3D Life Casting - Prices
Prices for Baby Lifecasting & Photography Packages
Baby and Child 3D Life Casting - FAQs
Back to Home
Book an appointment
Choose a caster with care!
3D Baby Casts- the Process