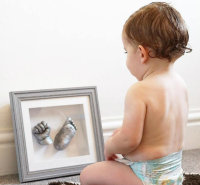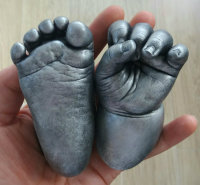 Prices for Framed & Freestanding 3D Baby Casts
Two casts framed in a bespoke frame of your choice with a choice of mounts
£150 - £155
depending on your choice of frame.
Two Casts- framed with a photo (customer to supply 7 x 5 or 8 x 6 photo)- prices from
£170/ £185
Four casts framed in a bespoke frame of your choice with a choice of mounts
£230
depending on your choice of frame.
Four casts-framed, with a photo (customer to supply 8 x 6 photo)- prices from
£250
First Shoes & a cast of baby's two little feet framed - from
£200
Two casts on a black or wooden plinth from
£145
Single cast, on Plinth from
£85
Framed Baby Casts
All casts have a frame and mount of your choice. These are them specifically made for you by a local framer.
Prices are based on a baby under 1 year old and prices include an engraved name plaque..
If casts are to be framed with a photo - the customer must supply an 8 x 6 or 7 x 5 photo.
Prices vary slightly with the choice of frame.
Some examples of Framed/ Unframed baby casts below-
...
...

The Process of casting Baby's Hands or Feet (or you pet's Paws)

I use a totally safe and natural moulding material called Alginate to form an mould of your child's hand or foot (or your dog's paw.)
It is totally safe for even for the tiniest babies (see FAQ's below).
Taking the actual mould is very quick (less than 5 mins)
The baby's foot or hand is placed in a cup of Alginate which is luke- warm and lovely and squishy so your baby should not even notice. If it is a slightly older child, they will hopefully love the process!
The Alginate forms a 3D mould and after you have gone home I will take a special stone cast of the mould. The stone takes on all the details is very strong when it is set.
I am very careful to identify every line and fold in tiny hands and feet to create a beautiful final 3D cast which highlights all of the unique fine details.
I usually allow 40 mins to 60 mins for each appointment (depending on the number of casts you require), so we then have time to relax, discuss what you'd like and to choose colours, frames, mounts and finish etc.
When the stone cast is dry I will hand- finish your casting using paint, wax and polish. Finally I will frame or mount your 3D casts to your individual specification.
I aim to work in a relaxed atmosphere to make the process really easy and enjoyable.
Your totally unique casting will need to dry for approx 4 weeks. I will then personally paint, finish and frame you cast so it will be ready to collect in approximately 5 to 6 weeks.

FAQ's

Is alginate completely safe?
Yes, alginate is completely safe and can be used in direct contact with skin. Alginate is extracted from natural seaweed.
It is the same material that has been used totally safely for making dental impressions millions of times by dentists in people's mouths for well over half a century.
Alginate is a flexible mould- and impression-making material which is perfect for casting. It is a very fine powder which is mixed with water to form a liquid gel that can pick out the tiniest details.

Is the alginate mould re- usable?
No, the mould is not reusable as the 3D cast needs to be peeled away from the mould. The alginate is flexible but easily tears when the cast is peeled away. I will therefore take a new mould for each cast.

Should you buy a DIY casting kit?
I get a lot of new parents coming to me after having tried to use Home Casting Kit and failed......
The images Online and on the Home Casting Kit Box makes it look pretty easy BUT I've heard of many people not managing to get the baby's hand or foot into the alginate before it sets, let alone managing to make a hand or foot cast. They are usually just left with the frame with nothing to put in it!!
The Home Casting Kits are not cheap, often between £50-60, and they usually contain cheap materials that are not suitable to make a good cast.
Also the Kits don't contain tools to properly finish the cast. (these tools would need training and practice to use anyway).
Many people would like to cast a slightly older child's hand or foot but often the frames supplied are only deep enough for a very small baby.Larger casting kits are also available, but with larger casts just mixing alginate takes skill, practice and equipment. Let alone being able to cast with out missing fingers.
Please do your research and spend your money wisely. I am happy to discuss all your requirements. For larger casts I am always happy to do payment plan to spread the cost.

....
3D Baby Casts- the Process
..
Laura was incredibly accommodating when we arrived mob handed, to witness the casting of our son's hands and feet! Everything was perfect about the session (including the amazing shusher!) and the finished products are simply stunning. They are now pride of place in both ours and the grandparents homes.
Today I collected my sons 3D hand and foot cast and what can I say WOW. It is worth every penny and something I will treasure forever! Thank you again Laura.
...
To See More Reviews....